Water Works Department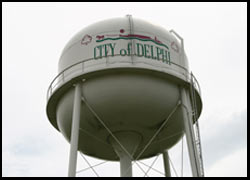 Delphi Water Works Department bringing safe, clean water to our customers

Delphi Water Works' four-man crew maintains seven wells around the city that pump fresh groundwater from deep in the earth to four storage tanks that serve our customers' water needs. One of our staff holds a Water Treatment WT2 level and Distribution System Operator DSL certifications. Coupling our pumping and storage capacities with a trained, dedicated staff guarantees a steady supply of water for drinking and fire protection needs. We consider it our goal to offer the very best in service and high quality product to the people who depend on us.

Contact Information
Office: 765-564-3944
E-mail:

This email address is being protected from spambots. You need JavaScript enabled to view it.



Paying Water and Wastewater Bills



Water and Wastewater bills may be paid in person during office hours:
Monday 7:30 am - 4:30 pm

Tuesday 7:30 am - 4:30 pm


Wednesday 7:30 am - 12:00 noon

Thursday 7:30 am - 4:30 pm

Friday 7:30 am - 4:30 pm

Closed Saturday, Sunday, and holidays.

An after-hours depository is located at the City Building for your convenience.

Water, wastewater, and sanitation payments are due by the 15th of the month. Penalties are added after the 15th as follows:
Water: 10% of first $3.00; 3% of balance over $3.00
Wastewater: 10% of total wastewater charge
Note: If water and wastewater bills are not paid before the 25th of the month, water will be disconnected. A $50 charge will be assessed for reconnection.
Paying Your Water Bill Online

You may now pay your water bill online.
Please visit this link to sign up for the online payment service.
For more information about paying online. Please review this video:
Wellhead Protection

Wellhead Protection is a program designed to protect our drinking water from contamination by managing land-use activities and potential contaminant sources in areas that overlie our local aquifer. To protect this groundwater resource, the City of Delphi has developed a wellhead protection plan. This community-based plan helps protect our source of drinking water through a program of pollution prevention.The source of your drinking water is groundwater supplied by 6 public water supply wells. All 6 wells are completed in the limestone bedrock aquifer. The well locations and associated wellhead protection areas (areas most susceptible to contamination) are shown on the provided map. For more information,
click here
.